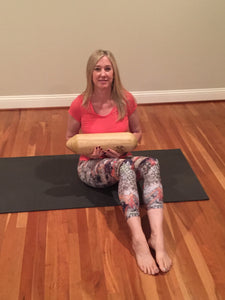 Couples Session includes 50 minute session, 2 Fit Buddies and 2 Fit Buddy Mats
What better date or special gift than to spend 50 minutes together learning something new that will help you to feel better and have fun online in a private session?
Feel inner peace, flexibility, mobility, muscle tension relief, mobility and more in the privacy of your own home.
In this 50 minute one on one private session we focus on over 20 ways to use this versatile fitness tool from the top of your head to the tip of your toes to promote muscle tension relief, recovery, flexibility, mobility, releasing stress and anxiety and breaking down cellulite.  You will walk away with an excellent understanding of how utilizing this amazing tool Fit Buddy incorporates into your everyday life.  

You will receive 2 Fit Buddies, 2 Fit Buddy Mats and a 50 minute one on one private online session utilizing FaceTime, Skype or Zoom with Fit Buddy Inventor. This amazing tool has over 20 uses and is used by NFL and NBA players, yoga studios, pilates studios, tennis players, athletes, physical therapy clinics, chiropractors, personal trainers and more.
 Due to the personal nature of this product, all sales are final. Over 100 video testimonials on website. 
24 second intro of Fit Buddy  https://youtu.be/PZbIlp85WTc
4 minute Fit Buddy workshop highlight  https://youtu.be/7ykEwDhfgMs
Will Barnes -NFL Falcon testimonial  https://www.youtube.com/watch?v=kWRAQ2QJ2yE
Emory Midtown Hospital Physical Therapist  https://youtu.be/I1QoTc5ua7E