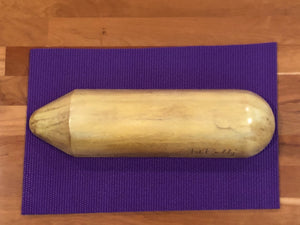 Fit Buddy Fitness Tool Natural Line 3 includes Fit Buddy mat
Fit Buddy -Natural made out of lightweight natural Paulownia wood-a renewable and sustainable resource of nature with the same clever patented design as the original LiLiFu Fit Buddy but with a poly finish for easy cleaning.  Lightweight, weighing less than 1 lb. Travels well and designed to fit into a carry on bag, backpack or gym bag. Take it to the field, basketball/tennis court, gym, work or while traveling. 

Gorgeous enough to proudly display on your coffee table in your family room.

Over 20 ways to use from head to toe for recovery, muscle tension relief, myofascial release, creating flexibility and mobility, stretching, massaging the body and breaking down cellulite and more. 

How to Use instruction videos online and comes with a sleeve wrapped around Fit Buddy with directions and how to use photos.
Special ends designed for different areas of the body. Used by professional athletes, personal trainers, yogis, physical therapists, flight attendants, tennis players, dental hygienists, chiropractors, doctors, weight lifters, a variety of athletes and anyone wanting to increase flexibility and feel better.
Less than the price of one massage. It's like having your own mini therapist at your fingertips. People often claim that Fit Buddy is the best tool on the market for shoulder tension. 
Due to the personal nature of this product, all sales are final. Over 100 product video testimonials on website. 
24 second intro of Fit Buddy  https://youtu.be/PZbIlp85WTc
4 minute Fit Buddy workshop highlight  https://youtu.be/7ykEwDhfgMs
Will Barnes -NFL Falcon testimonial  https://www.youtube.com/watch?v=kWRAQ2QJ2yE
Emory Midtown Hospital Physical Therapist  https://youtu.be/I1QoTc5ua7E